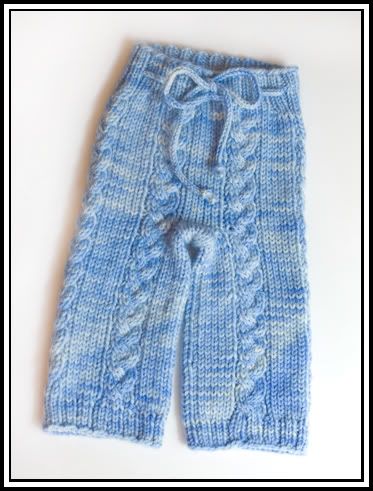 On Thursday, May 13 at 9pm EDT, the Braided Britches pattern will be
available through Hyena Cart
! This pattern was originally based on my Twisty Trousers pattern, although I have developed it further than simply replacing the cable pattern. The pattern is knit in alternating columns of stockinette and braided cables, producing pants that are less fitted (though less stretchy) than Twisty Trousers.
I will also have the pattern available at Ravelry within the next week or so. Licensing will be available for Braided Britches separate from but at the same cost as Twisty Trousers licensing.
This Thursday will also mark the first anniversary of Their Own Knitted World! We will be having a special all-scrappies stocking, and past and future featured fiber artists will be joining us to stock yarn. I am stocking a medium pair of boyish (or GN!) cargo shorties:
If these aren't the perfect pair for your little one,
check out the amazing scrappies being offered by the rest of the knitters!